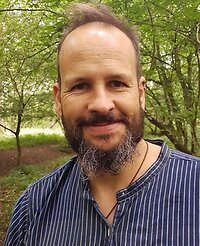 Edward Silver BA (Hons)Registered MBACP


At times we can all struggle to cope with what life brings. Therapy can offer you the space to work through personal issues in a safe, supportive and confidential environment whether online or in a natural space.

As an integrative Counsellor & Eco Based Psychotherapist I work holistically by integrating different therapy theories into my practice. In my training I have developed a skills set which includes, walk and talk therapy, internal family systems, behavioural therapy, attachment focused therapy, nature based stress reduction and therapeutic art and play.

If you decide that I am the right therapist for you, we will work together with what you bring, with the understanding that we will not simply examine the problem/issue in isolation but as a part of your world, seeing it in the wider context of your life and history.

As your therapist I will not give you advice or tell you what to do. Instead I use my skills, intuition and training to support you in finding your own way forward, we can begin to access how your history colours, your thoughts, feelings and beliefs about yourself and the world around you, while rediscovering and building upon your own self esteem and confidence.

Discovering what is important for you as an individual and learning to identify and use your inner resources to support you to feel more grounded and to support you to cope in times of stress, anxiety, bereavement, depression and emotional upheaval such as divorce, redundancy or retirement are just a few of the benefits of counselling.

Some of the issues I can support you with; Depression - Anxiety (GAD)-Work Stress - Relationship Therapy - Adoption - Eco-Grief - Personal Development - Affairs/Separation - Addiction - Bereavement - Anger - Trauma - OCD - Post Traumatic Stress - Sexual Abuse - Domestic Abuse - Emotional Abuse - Grief & Loss - Panic Attacks - Phobias - Low Self Esteem - Inner Child Work - Eating Disorders - Marriage Counselling - Family Counselling - Sexual Problems - Gender Identity - Parenting Issues - Transition - Infertility - Existential Issues - Bipolar - Personal Development - ADHD - Parent/Child Relationship - Nature Connection & Ecotherapy

As an Integrative Psychotherapist and Ecotherapist it is my philosophy that every person is unique and we all think, feel and react in different ways, because of this it is important to work holistically with each of my clients. The change we so desperately want to see in our lives and in the world starts with meeting ourselves how we are, in our embodied experience.

With over 13 years of experience in the field of counselling and psychotherapy, with the last 3 years integrating Walk and Talk Therapy, Ecotherapy and Deeper Nature Exploration into my practice now based near Ipswich, in Mid Suffolk. I have learned many skills to support people on their journey to wellness, personal development and spiritual growth. Whether clients need to recover from mental illness, trauma and loss or wish to improve their success in relationships or career then I can offer a bespoke approach so that each client has the freedom to work in a way which suits their individual needs.

Appointments available from 8am to 8pm Tuesday to Friday.
Early morning, daytime or evening sessions.


Walk and Talk Therapy & Eco-therapy Sessions


I offer outdoor walk and talk sessions at and close to my home in Gosbeck, or at Helmingham, near Ipswich and Stowmarket.

The power of nature can heal and support wellbeing in a number of proven ways. Spending time outdoors guided by an experienced eco-therapist, may help you gain clarity and insight into the challenges you face and support you to consider yourself with more empathy. With the online world we live in, many people have become disconnected from the natural world.
We naturally connect to nature and the world both urban and wild through our senses, (sight, touch, taste, smell and hearing), imagination, feelings, curiosity and wonder. This connectedness is vital for us to find meaning, inspiration and to be well and happy in our individual and collective dwelling places here on earth.

For Walk and Talk Therapy or Woodland Based Eco-therapy or Deeper Nature Exploration please contact me and we can discuss your needs.....

I look forward to speaking to you soon.....

Natures Blessings

Edward


I am a registered Member of BACP. I am fully insured, I hold current DBS certificates & attend regular online supervision to ensure my effective and ethical practice.
GPDR Privacy Policy
Psychotherapy Ipswich, Counselling Stowmarket, Counsellor Suffolk